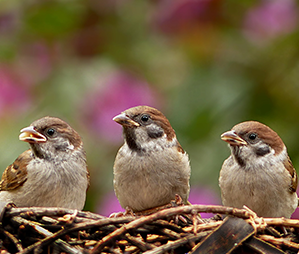 Animated visit to this natural and agricultural area
Activity start times:
11 h
Públic familiar, a partir de 5 anys.
Durant l'activitat farem una passejada; recomanem portar calçat còmode. Activitat subjecte a les condicions meteorològiques.

Reserva
Què passaria en un món sense pardals? Tots els éssers vius de la natura tenen un paper molt important per al medi ambient i per a nosaltres; és per aquest motiu que els hem de valorar i cuidar. Durant aquesta activitat descobriràs amb tota la família la biodiversitat d'aus presents a Mas de Colom. T'has preguntat mai com són o quin cant tenen? Vine i escolta'n els cants, observa'n els vols i aprèn els trets característics dels ocells que ens envolten a la finca. Seràs tot un expert en ocells!
–