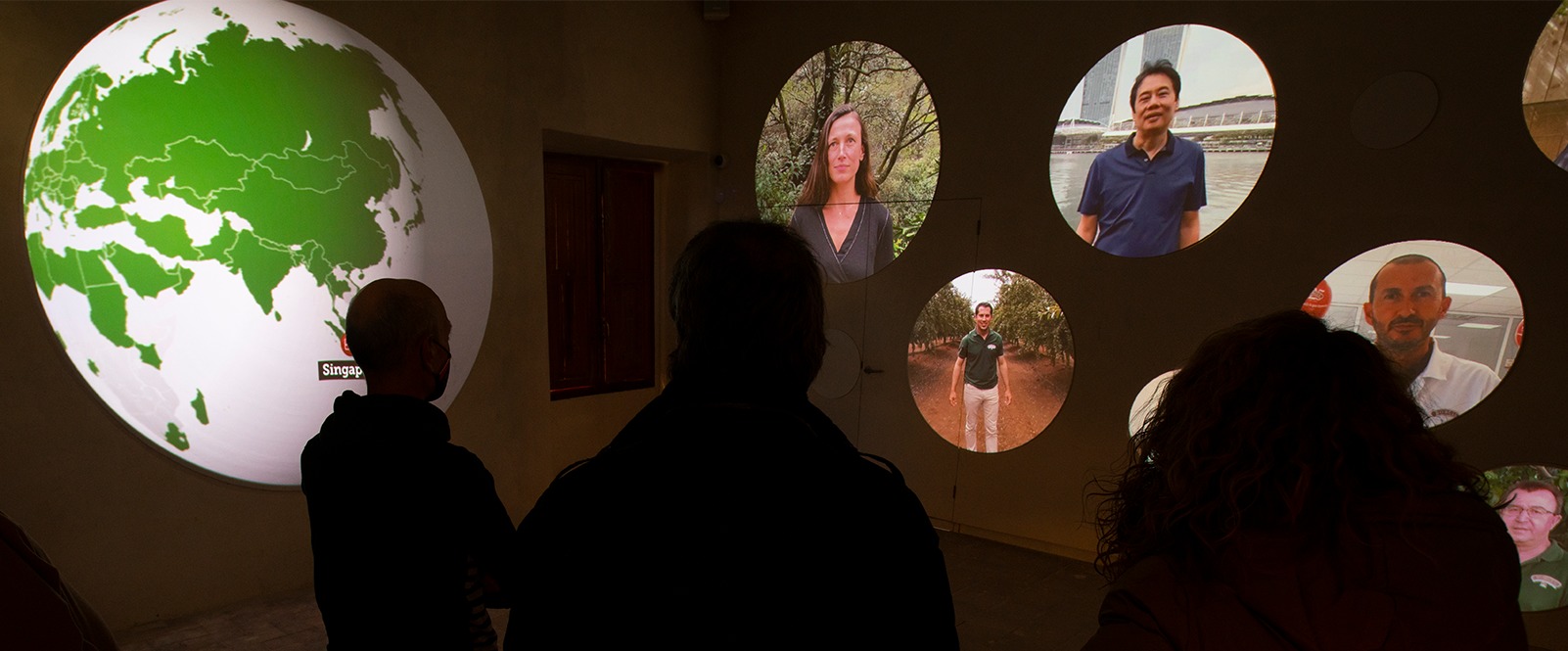 Mas de Colom is an experiential, informative and educational centre for the brand; an old estate embodying the essence of a company that preserves the values ​​of the land and region and projects them around the world. And it does so using immersive and emotional resources to connect the public with the region and its produce.
The cellar of history at Mas Colom
In the old cellar of the farmhouse, in the basement, a projection on a stone vault explains the most memorable history of Mas de Colom up to its current transformation.
The essence of a landscape linked to Borges and the region
The tour begins in an immersive space, a multi-projection that surrounds visitors and explains how the land and the passage of the seasons create the best produce in the region. Faithful to the land, Borges products offer the authenticity and taste of traditional produce.
A family business

The origin is a family business rooted in the land but with a global scope. The large Borges family has been built up thanks to a lot of hard work, patience and skill, now employing over 1,000 people throughout its value chain.
The raw materials: the essence of a valuable, healthy product

Wonderful produce comes from the land and from the people who work it, the key ingredients of the Mediterranean diet. Here we show the essence of olive oil and edible seeds and nuts and Modena vinegar, present the world over.
Some examples of innovation at Borges

One of the company's keys to success is its innovative spirit, as it's necessary to offer new healthy products that serve consumers, to constantly improve our sustainable production and introduce new crops, but always paying special attention to the land and the people who make it all possible.
A family business with an international calling

We go up the stairs and, on the main floor of the farmhouse, find out all about the company's international profile. A multi-projection reveals the international side of Borges, a world leader in healthy food products that acts as an ambassador for the Mediterranean diet.
Tastings to appreciate the very best of olive oil and nuts

The experience culminates with a tasting of olive oil and nuts, guided by an expert from Borges who helps to interpret their organoleptic qualities according to the different varieties, origins and production techniques.

Timetable
Monday to Thursday, from 10 a.m. to 5 p.m.

Fridays, weekends and public holidays, from 10 a.m. to 6 p.m.
Reservation